SSER
Stainless Steel Bearing Inserts,
SUS440C
/
SUS304
, Standard Duty,
Cylindrical Outer Ring & Snap Ring, Setscrew Locking,
Metric Sizes & Inch Sizes

SSER2 type ball bearing is SER2 type bearing made in stainless steel SUS440C or SUS304.

Plese select the bearings in the following tables. Click " CLI BEARING NO. " or " DETAILS " to check the specifications...

BEARING LIST & BEARING DETAILS
SSER
Stainless Steel Bearing Inserts,
SUS440C
/
SUS304
, Standard Duty,
Cylindrical Outer Ring & Snap Ring, Setscrew Locking,
for shaft metric sizes from
12 mm
to
90 mm
for shaft inch sizes from
1/2 inch
to
3-1/2 inch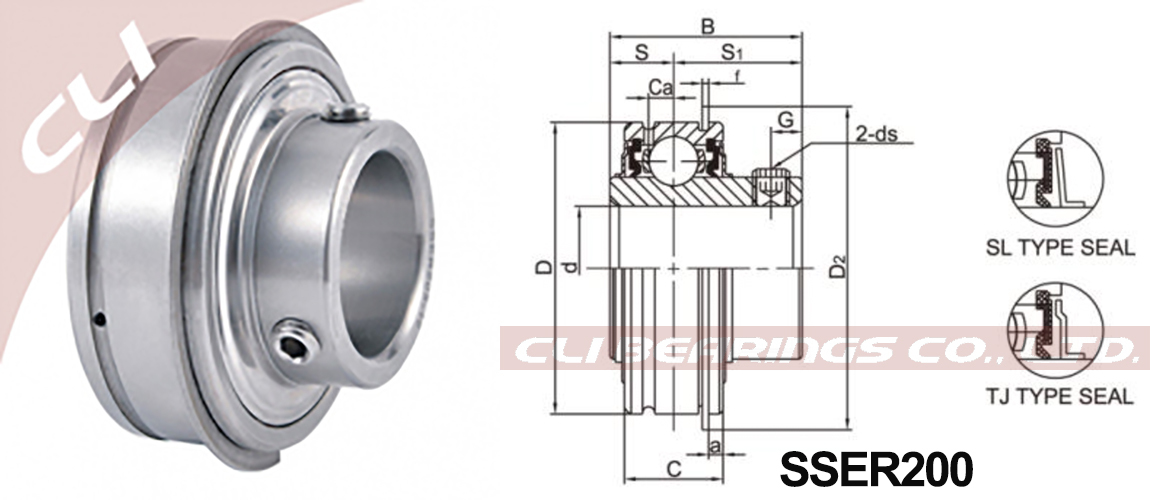 CLI
Bearing No.
Shaft Dia
Dimensions
(mm)

Basic Load Rating
( KN )

Weight
(kg)
d
D
B
C
S
S1
a
r
D2 (Max.)
G
ds
Ca
Dynamic Cr
Static Cor

(in)

(mm)

(mm)

(in.UNF)

SSER201

12

47

31

15.9

11.5

19.5

2.46

1.07

52.7

5

M6X0.75

3.95

12.8

6.6

0.27

SSER201-8

1/2

 

47

31

15.9

11.5

19.5

2.46

1.07

52.7

5

 

1/4-28

3.95

0.27

SSER202

15

47

31

15.9

11.5

19.5

2.46

1.07

52.7

5

M6X0.75

3.95

12.8

6.6

0.25

SSER202-9

9/16

 

47

31

15.9

11.5

19.5

2.46

1.07

52.7

5

 

1/4-28

3.95

0.25

SSER202-10

5/8

 

47

31

15.9

11.5

19.5

2.46

1.07

52.7

5

 

1/4-28

3.95

0.25

SSER203

 

17

47

31

15.9

11.5

19.5

2.46

1.07

52.7

5

M6X0.75

3.95

12.8

6.6

0.23

SSER203-11

11/16

 

47

31

15.9

11.5

19.5

2.46

1.07

52.7

5

 

1/4-28

3.95

0.23

SSER204

20

47

31

15.9

11.5

19.5

2.46

1.07

52.7

5

M6X0.75

3.95

12.8

6.6

0.22

SSER204-12

3/4

 

47

31

15.9

11.5

19.5

2.46

1.07

52.7

5

 

1/4-28

3.95

0.22

SSER205

25

52

34.9

19.1

13.1

21.8

2.46

1.07

57.9

5

M6X0.75

4.35

14.0

7.8

0.28

SSER205-13

13/16

 

52

34.9

19.1

13.1

21.8

2.46

1.07

57.9

5

 

1/4-28

4.35

0.28

SSER205-14

7/8

 

52

34.9

19.1

13.1

21.8

2.46

1.07

57.9

5

 

1/4-28

4.35

0.28

SSER205-15

15/16

 

52

34.9

19.1

13.1

21.8

2.46

1.07

57.9

5

 

1/4-28

4.35

0.28

SSER205-16

1

 

52

34.9

19.1

13.1

21.8

2.46

1.07

57.9

5

 

1/4-28

4.35

0.28

SSER206

30

62

38.1

22.2

15.9

22.2

3.18

1.65

67.7

5

M6X0.75

4.35

19.5

11.2

0.38

SSER206-17

1-1/16

 

62

38.1

22.2

15.9

22.2

3.18

1.65

67.7

5

 

1/4-28

4.35

0.38

SSER206-18

1-1/8

 

62

38.1

22.2

15.9

22.2

3.18

1.65

67.7

5

 

1/4-28

4.35

0.38

SSER206-19

1-3/16

 

62

38.1

22.2

15.9

22.2

3.18

1.65

67.7

5

 

1/4-28

4.35

0.38

SSER206-20

1-1/4

 

62

38.1

22.2

15.9

22.2

3.18

1.65

67.7

5

 

1/4-28

4.35

0.38

SSER207

35

72

42.9

23.8

17.5

25.4

3.18

1.65

78.6

6.5

M8X1

6.3

25.7

15.2

0.56

SSER207-20

1-1/4

 

72

42.9

23.8

17.5

25.4

3.18

1.65

78.6

6.5

 

5/16-24

6.3

0.56

SSER207-21

1-5/16

 

72

42.9

23.8

17.5

25.4

3.18

1.65

78.6

6.5

 

5/16-24

6.3

0.56

SSER207-22

1-3/8

 

72

42.9

23.8

17.5

25.4

3.18

1.65

78.6

6.5

 

5/16-24

6.3

0.56

SSER207-23

1-7/16

 

72

42.9

23.8

17.5

25.4

3.18

1.65

78.6

6.5

 

5/16-24

6.3

0.56

SSER208

40

80

49.2

27.8

19

30.2

3.18

1.65

86.6

8

M8X1

7.5

29.6

18.2

0.87

SSER208-24

1-1/2

 

80

49.2

27.8

19

30.2

3.18

1.65

86.6

8

 

5/16-24

7.5

0.87

SSER208-25

1-9/16

 

80

49.2

27.8

19

30.2

3.18

1.65

86.6

8

 

5/16-24

7.5

0.87

SSER209

45

85

49.2

27.8

19

30.2

3.18

1.65

91.6

8

M8X1

7.5

31.8

20.8

0.95

SSER209-26

1-5/8

 

85

49.2

27.8

19

30.2

3.18

1.65

91.6

8

 

5/16-24

7.5

0.95

SSER209-27

1-11/16

 

85

49.2

27.8

19

30.2

3.18

1.65

91.6

8

 

5/16-24

7.5

0.95

SSER209-28

1-3/4

 

85

49.2

27.8

19

30.2

3.18

1.65

91.6

8

 

5/16-24

7.5

0.95

SSER210

50

90

51.6

28.6

19

32.6

3.18

2.41

96.5

10

M10X1.25

6.8

35.1

23.2

1.03

SSER210-30

1-7/8

 

90

51.6

28.6

19

32.6

3.18

2.41

96.5

10

 

3/8-24

6.8

1.03

SSER210-31

1-15/16

 

90

51.6

28.6

19

32.6

3.18

2.41

96.5

10

 

3/8-24

6.8

1.03

SSER210-32

2

 

90

51.6

28.6

19

32.6

3.18

2.41

96.5

10

 

3/8-24

6.8

1.03

SSER211

55

100

55.6

30.2

22.2

33.4

3.18

2.41

106.5

10

M10X1.25

7.6

43.5

29.2

1.21

SSER211-32

2

 

100

55.6

30.2

22.2

33.4

3.18

2.41

106.5

10

 

3/8-24

7.6

1.21

SSER211-33

2-1/16

 

100

55.6

30.2

22.2

33.4

3.18

2.41

106.5

10

 

3/8-24

7.6

1.21

SSER211-34

2-1/8

 

100

55.6

30.2

22.2

33.4

3.18

2.41

106.5

10

 

3/8-24

7.6

1.21

SSER211-35

2-3/16

 

100

55.6

30.2

22.2

33.4

3.18

2.41

106.5

10

 

3/8-24

7.6

1.21

SSER212

 

60

110

65.1

31.8

25.4

39.7

3.18

2.41

116.6

10

M10X1.25

 

8.4

52.5

32.8

1.68

SSER212-36

2-1/4

 

110

65.1

31.8

25.4

39.7

3.18

2.41

116.6

10

 

3/8-24

8.4

1.68

SSER212-37

2-5/16

 

110

65.1

31.8

25.4

39.7

3.18

2.41

116.6

10

 

3/8-24

8.4

1.68

SSER212-38

2-3/8

 

110

65.1

31.8

25.4

39.7

3.18

2.41

116.6

10

 

3/8-24

8.4

1.68

SSER212-39

2-7/16

 

110

65.1

31.8

25.4

39.7

3.18

2.41

116.6

10

 

3/8-24

8.4

1.68