Single Row
Angular Contact Ball Bearings
with Different Contact Angles, CHROME STEEL AISI52100, METRIC sizes

Angular ball bearings made of rolling bearing steel are economical, withstand extremely high load-ratings and are suitable by their rubber seals and metal cage for the use with temperatures from circa -10°C up to +100°C in the long run, in case of polyamide cages up to circa +70°C. The rolling bearing steel is wear-resistant, shock-resistant, conductive and magnetic.

Single-row bearings handle thrust loads on one side. For applications with thrust loads on both sides, mount them in pairs.​ The raceways in these bearings are positioned off-center to handle angular (combined radial and thrust) loads. The main dimensions according to DIN 628-1. Usable in case of high loads in the radial or axial and single direction. Suitable for high speeds.
Plese select the bearings in the following tables. Click " CLI BEARING NO. " or " DETAILS " to check the specifications...

BEARING LIST & BEARING DETAILS
Single Row
Angular Contact Ball Bearings
with Different Contact Angles, CHROME STEEL AISI52100, METRIC sizes
for shaft sizes from
10 mm
to
200 mm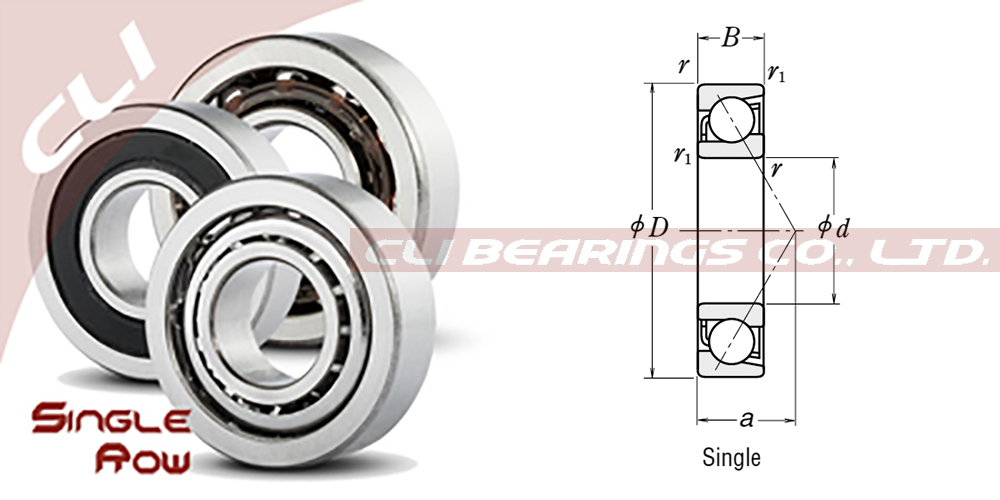 CLI
BEAEING NO.

Contact Angel

Basic Dimensions

Static Load

Max Speed

(Degree)

(mm)

Rating

Rating

(Grease)

Bore Dia (d)

Outer Dia (D)

Width (B)

(Cr) (KN)

(Cor) (KN)

(RPM)

7900A5TYN

25

10 mm

22 mm

6 mm

2.88

1.45

40000

7900CTYN

15

10 mm

22 mm

6 mm

3

1.52

48000

7000AW

30

10 mm

26 mm

8 mm

5.35

2.6

24000

7000CTYN

15

10 mm

26 mm

8 mm

5.3

2.49

45000

7200AW

30

10 mm

30 mm

9 mm

5.4

2.71

22000

7200BW

40

10 mm

30 mm

9 mm

5

2.5

16000

7200CTYN

15

10 mm

30 mm

9 mm

5.4

2.61

40000

7300AW

30

10 mm

35 mm

11 mm

9.3

4.3

16000

7300BW

40

10 mm

35 mm

11 mm

8.75

4.05

14000

7901A5TYN

25

12 mm

24 mm

6 mm

3.2

1.77

38000

7901CTYN

15

12 mm

24 mm

6 mm

3.35

1.86

45000

7001AW

30

12 mm

28 mm

8 mm

5.8

2.98

22000

7001CTYN

15

12 mm

28 mm

8 mm

5.8

2.9

40000

7201AW

30

12 mm

32 mm

10 mm

8

4.05

20000

7201BEAT85

40

12 mm

32 mm

10 mm

8.15

3.75

20000

7201BW

40

12 mm

32 mm

10 mm

7.45

3.75

15000

7201CTYN

15

12 mm

32 mm

10 mm

7.9

3.85

36000

7301AW

30

12 mm

37 mm

12 mm

9.45

4.5

15000

7301BEAT85

40

12 mm

37 mm

12 mm

11.1

4.95

18000

7301BW

40

12 mm

37 mm

12 mm

8.85

4.2

13000

7902A5TYN

25

15 mm

28 mm

7 mm

4.55

2.53

32000

7902CTYN

15

15 mm

28 mm

7 mm

4.75

2.64

38000

7002CTYN

15

15 mm

32 mm

9 mm

6.25

3.4

34000

7002AW

30

15 mm

32 mm

9 mm

6.1

3.45

19000

7202AW

30

15 mm

35 mm

11 mm

8.65

4.65

18000

7202BEAT85

40

15 mm

35 mm

11 mm

9.8

4.8

18000

7202BW

40

15 mm

35 mm

11 mm

7.95

4.3

13000

7202CTYN

15

15 mm

35 mm

11 mm

8.65

4.55

32000

7302AW

30

15 mm

42 mm

13 mm

13.4

7.1

13000

7302BEAT85

40

15 mm

42 mm

13 mm

14.3

6.9

16000

7302BW

40

15 mm

42 mm

13 mm

12.5

6.6

11000

7903A5TYN

25

17 mm

30 mm

7 mm

4.75

2.8

30000

7903CTYN

15

17 mm

30 mm

7 mm

5

2.94

34000

7003AW

30

17 mm

35 mm

10 mm

6.4

3.8

17000

7003CTYN

15

17 mm

35 mm

10 mm

6.6

3.8

32000

7203AW

30

17 mm

40 mm

12 mm

10.8

6

16000

7203BEAT85

40

17 mm

40 mm

12 mm

11.6

6.1

16000

7203BW

40

17 mm

40 mm

12 mm

9.95

5.5

11000

7203CTYN

15

17 mm

40 mm

12 mm

10.9

5.85

28000

7303AW

30

17 mm

47 mm

14 mm

15.9

8.65

11000

7303BEAT85

40

17 mm

47 mm

14 mm

16.8

8.3

14000

7303BW

40

17 mm

47 mm

14 mm

14.8

8

10000

7904A5TYN

25

20 mm

37 mm

9 mm

6.6

4.05

24000

7904CTYN

15

20 mm

37 mm

9 mm

6.95

4.25

28000

7004AW

30

20 mm

42 mm

12 mm

10.8

6.6

14000

7004CTYN

15

20 mm

42 mm

12 mm

11.1

6.55

26000

7204BEAT85

40

20 mm

47 mm

14 mm

15.6

8.15

13000

7204AW

30

20 mm

47 mm

14 mm

14.5

8.3

13000

7204BW

40

20 mm

47 mm

14 mm

13.3

7.65

9500

7204CTYN

15

20 mm

47 mm

14 mm

14.6

8.05

24000

7304AW

30

20 mm

52 mm

15 mm

18.7

10.4

10000

7304BEAT85

40

20 mm

52 mm

15 mm

19.8

10.5

13000

7304BW

40

20 mm

52 mm

15 mm

17.3

9.65

9000

7905A5TYN

25

25 mm

42 mm

9 mm

7.45

5.15

20000

7905CTYN

15

25 mm

42 mm

9 mm

7.85

5.4

24000

7005AW

30

25 mm

47 mm

12 mm

11.3

7.4

12000

7005CTYN

15

25 mm

47 mm

12 mm

11.7

7.4

22000

7205AW

30

25 mm

52 mm

15 mm

16.2

10.3

12000

7205BEAT85

40

25 mm

52 mm

15 mm

17.6

10.2

12000

7205BW

40

25 mm

52 mm

15 mm

14.8

9.4

8500

7205CTYN

15

25 mm

52 mm

15 mm

16.6

10.2

22000

7305AW

30

25 mm

62 mm

17 mm

26.4

15.8

8500

7305BEAT85

40

25 mm

62 mm

17 mm

27.2

14.9

10000

7305BW

40

25 mm

62 mm

17 mm

24.4

14.6

7500

7906A5TYN

25

30 mm

47 mm

9 mm

7.85

5.95

18000

7906CTYN

15

30 mm

47 mm

9 mm

8.3

6.25

22000

7006AW

30

30 mm

55 mm

13 mm

14.5

10.1

11000

7006CTYN

15

30 mm

55 mm

13 mm

15.1

10.3

19000

7206AW

30

30 mm

62 mm

16 mm

22.5

14.8

9500

7206BEAT85

40

30 mm

62 mm

16 mm

23.7

14.3

10000

7206BW

40

30 mm

62 mm

16 mm

20.5

13.5

7100

7206CTYN

15

30 mm

62 mm

16 mm

23

14.7

18000

7306AW

30

30 mm

72 mm

19 mm

33.5

20.9

7100

7306BW

40

30 mm

72 mm

19 mm

31

19.3

6300

7306BEAT85

40

30 mm

72 mm

19 mm

36.5

20.6

9000

7907A5TYN

25

35 mm

55 mm

10 mm

11.4

8.7

15000

7907CTYN

15

35 mm

55 mm

10 mm

12.1

9.15

18000

7007AW

30

35 mm

62 mm

14 mm

18.3

13.4

9000

7007CTYN

15

35 mm

62 mm

14 mm

19.1

13.7

17000

7207AW

30

35 mm

72 mm

17 mm

29.7

20.1

8500

7207BEAT85

40

35 mm

72 mm

17 mm

32.5

19.6

8500

7207BW

40

35 mm

72 mm

17 mm

27.1

18.4

6000

7307BW

40

35 mm

80 mm

21 mm

36.5

24.2

5600

7307BEAW

40

35 mm

80 mm

21 mm

40.5

24.4

5600

7307BEAT85

40

35 mm

80 mm

21 mm

40.5

24.4

8000

7307AW

30

35 mm

80 mm

21 mm

40

26.3

6300

7207C

15

35 mm

72 mm

17 mm

30.5

19.9

15000

7008AW

30

40 mm

68 mm

15 mm

19.5

15.4

8500

7908CTYN

15

40 mm

62 mm

12 mm

15.1

11.7

16000

7908A5TYN

25

40 mm

62 mm

12 mm

14.3

11.2

14000

7008C

15

40 mm

68 mm

15 mm

20.6

15.9

15000

7208AW

30

40 mm

80 mm

18 mm

35.5

25.1

7500

7208BEAT85

40

40 mm

80 mm

18 mm

38.5

24.5

7500

7208BW

40

40 mm

80 mm

18 mm

32

23

5300

7208C

15

40 mm

80 mm

18 mm

36.5

25.2

14000

7308AW

30

40 mm

90 mm

23 mm

49

33

5600

7308BEAT85

40

40 mm

90 mm

23 mm

53

33

7100

7308BEAW

40

40 mm

90 mm

23 mm

53

33

5000

7308BW

40

40 mm

90 mm

23 mm

45

30.5

5000

7909A5

25

45 mm

68 mm

12 mm

15.1

12.7

12000

7909C

15

45 mm

68 mm

12 mm

16

13.4

14000

7009AW

30

45 mm

75 mm

16 mm

23.1

18.7

7500

7009C

15

45 mm

75 mm

16 mm

24.4

19.3

14000

7209AW

30

45 mm

85 mm

85 mm

39.5

28.7

6700

7209BEAT85

40

45 mm

85 mm

19 mm

40.5

27.1

7100

7209BW

40

45 mm

85 mm

19 mm

36

26.2

5000

7209C

15

45 mm

85 mm

19 mm

41

28.8

12000

7309AW

30

45 mm

100 mm

25 mm

63.5

43.5

5000

7309BEAT85

40

45 mm

100 mm

25 mm

62.5

39.5

6300

7309BEAW

40

45 mm

100 mm

25 mm

62.5

39.5

4500

7309BW

40

45 mm

100 mm

25 mm

58.5

40

4500

7910A5

25

50 mm

72 mm

12 mm

15.9

14.2

11000

7910C

15

50 mm

72 mm

12 mm

16.9

15

13000

7010AW

30

50 mm

80 mm

16 mm

24.5

21.1

6700

7010C

15

50 mm

80 mm

16 mm

26

21.9

12000

7210AW

30

50 mm

90 mm

20 mm

41.5

31.5

6300

7210BEAT85

40

50 mm

90 mm

20 mm

42

29.7

6300

7210BW

40

50 mm

90 mm

20 mm

37.5

28.6

4500

7210C

15

50 mm

90 mm

20 mm

43

31.5

12000

7310AW

30

50 mm

110 mm

27 mm

74

52

4500

7310BEAT85

40

50 mm

110 mm

27 mm

78

50.5

5600

7310BEAW

40

50 mm

110 mm

27 mm

78

50.5

4000

7310BW

40

50 mm

110 mm

27 mm

68

48

4000

7911A5

25

55 mm

80 mm

13 mm

18.1

16.8

10000

7911C

15

55 mm

80 mm

13 mm

19.1

17.7

12000

7011AW

30

55 mm

90 mm

18 mm

32.5

27.7

6300

7011C

15

55 mm

90 mm

18 mm

34

28.6

11000

7211AW

30

55 mm

100 mm

21 mm

51

39.5

5600

7211BEAT85

40

55 mm

100 mm

21 mm

51.5

37

6000

7211BW

40

55 mm

100 mm

21 mm

46.5

36

4000

7211C

15

55 mm

100 mm

21 mm

53

40

10000

7311AW

30

55 mm

120 mm

29 mm

86

61.5

4000

7311BEAT85

40

55 mm

120 mm

29 mm

89

58.5

5000

7311BEAW

40

55 mm

120 mm

29 mm

89

58.5

3600

7311BW

40

55 mm

120 mm

29 mm

79

56.5

3600

7912A5

25

60 mm

85 mm

13 mm

18.3

17.7

9500

7912C

15

60 mm

85 mm

13 mm

19.4

18.7

11000

7012AW

30

60 mm

95 mm

18 mm

33

29.5

5600

7012C

15

60 mm

95 mm

18 mm

35

30.5

10000

7212AW

30

60 mm

110 mm

22 mm

62

48.5

5300

7212BEAT85

40

60 mm

110 mm

22 mm

61.5

45

5300

7212BW

40

60 mm

110 mm

22 mm

56

44.5

3800

7212C

15

60 mm

110 mm

22 mm

64

49

9500

7312AW

30

60 mm

130 mm

31 mm

98

71.5

3800

7312BEAT85

40

60 mm

130 mm

31 mm

102

68.5

4800

7312BEAW

40

60 mm

130 mm

31 mm

102

68.5

3400

7913C

15

65 mm

90 mm

13 mm

20.2

20.5

10000

7913A5

25

65 mm

90 mm

13 mm

19.1

19.4

9000

7013AW

30

65 mm

100 mm

18 mm

35

33

5300

7013C

15

65 mm

100 mm

18 mm

37

34.5

10000

7213AW

30

65 mm

120 mm

23 mm

70.5

58

4800

7213BEAT85

40

65 mm

120 mm

23 mm

70

53.5

4800

7213BW

40

65 mm

120 mm

23 mm

63.5

52.5

3400

7213C

15

65 mm

120 mm

23 mm

73

58.5

9000

7313AW

30

65 mm

140 mm

33 mm

111

82

3600

7313BEAT85

40

65 mm

140 mm

33 mm

114

77

4300

7313BEAW

40

65 mm

140 mm

33 mm

114

77

3200

7914A5

25

70 mm

100 mm

16 mm

26.5

26.3

8000

7914C

15

70 mm

100 mm

16 mm

28.1

27.8

9500

7014AW

30

70 mm

110 mm

20 mm

44

41.5

5000

7014C

15

70 mm

110 mm

20 mm

47

43

9000

7214AW

30

70 mm

125 mm

24 mm

76.5

63.5

4500

7214BEAT85

40

70 mm

125 mm

24 mm

75.5

58.5

4500

7214BW

40

70 mm

125 mm

24 mm

69

58

3200

7214C

15

70 mm

125 mm

24 mm

79.5

64.5

8500

7314AW

30

70 mm

150 mm

35 mm

125

93.5

3200

7314BEAT85

40

70 mm

150 mm

35 mm

124

87.5

4000

7314BEAW

40

70 mm

150 mm

35 mm

124

87.5

2800

7915A5

25

75 mm

105 mm

16 mm

26.9

27.7

7500

7915C

15

75 mm

105 mm

16 mm

28.6

29.3

9000

7015AW

30

75 mm

115 mm

20 mm

45

43.5

4800

7015C

15

75 mm

115 mm

20 mm

48

45.5

8500

7215AW

30

75 mm

130 mm

25 mm

76

64.5

4300

7215BEAT85

40

75 mm

130 mm

25 mm

78.5

63.5

4300

7215BW

40

75 mm

130 mm

25 mm

68.5

58.5

3200

7215C

15

75 mm

130 mm

25 mm

83

70

8000

7315AW

30

75 mm

160 mm

37 mm

136

106

3000

7315BEAT85

40

75 mm

160 mm

37 mm

134

98.5

3800

7315BEAW

40

75 mm

160 mm

37 mm

134

98.5

2800

7916A5

25

80 mm

110 mm

16 mm

27.3

29

7100

7916C

15

80 mm

110 mm

16 mm

29

30.5

8500

7016AW

30

80 mm

125 mm

22 mm

55

53

4300

7016C

15

80 mm

125 mm

22 mm

58.5

55.5

8000

7216AW

30

80 mm

140 mm

26 mm

89

76

4000

7216BEAT85

40

80 mm

140 mm

26 mm

87.5

70

4000

7216BW

40

80 mm

140 mm

26 mm

80.5

69.5

2800

7216C

15

80 mm

140 mm

26 mm

93

77.5

7500

7316AW

30

80 mm

170 mm

39 mm

147

119

2800

7316BEAT85

40

80 mm

170 mm

39 mm

144

110

3600

7316BEAW

40

80 mm

170 mm

39 mm

144

110

2600

7917A5

25

85 mm

120 mm

18 mm

36.5

38.5

6700

7917C

15

85 mm

120 mm

18 mm

39

40.5

8000

7017AW

30

85 mm

130 mm

22 mm

56.5

56

4300

7017C

15

85 mm

130 mm

22 mm

60

58.5

7500

7217AW

30

85 mm

150 mm

28 mm

103

89

3800

7217BEAT85

40

85 mm

150 mm

28 mm

101

81.5

3800

7217BW

40

85 mm

150 mm

28 mm

93

81

2800

7217C

15

85 mm

150 mm

28 mm

107

90.5

6700

7317AW

30

85 mm

180 mm

41 mm

159

133

2600

7317BEAT85

40

85 mm

180 mm

41 mm

164

133

3400

7317BW

40

85 mm

180 mm

41 mm

146

122

2400

7918A5

25

90 mm

125 mm

18 mm

39.5

43.5

6300

7918C

15

90 mm

125 mm

18 mm

41.5

46

7500

7018AW

30

90 mm

140 mm

24 mm

67.5

66.5

3800

7018C

15

90 mm

140 mm

24 mm

71.5

69

7100

7218AW

30

90 mm

160 mm

30 mm

118

103

3600

7218BEAT85

40

90 mm

160 mm

30 mm

115

93.5

3600

7218BW

40

90 mm

160 mm

30 mm

107

94

2600

7218C

15

90 mm

160 mm

30 mm

123

105

6300

7318AW

30

90 mm

190 mm

43 mm

171

147

2600

7318BEAT85

40

90 mm

190 mm

43 mm

177

146

3200

7318BW

40

90 mm

190 mm

43 mm

156

135

2200

7919A5

25

95 mm

130 mm

18 mm

40

45.5

6000

7219AW

30

95 mm

170 mm

32 mm

128

111

3400

7919C

15

95 mm

130 mm

18 mm

42.5

48

7100

7019A

30

95 mm

145 mm

24 mm

67

67

4500

7019C

15

95 mm

145 mm

24 mm

73.5

73

6700

7219BEAT85

40

95 mm

170 mm

32 mm

130

107

3400

7219BW

40

95 mm

170 mm

32 mm

116

101

2400

7219C

15

95 mm

170 mm

32 mm

133

112

6000

7319BEAT85

40

95 mm

200 mm

45 mm

189

160

3000

7319AW

30

95 mm

200 mm

45 mm

183

162

2400

7319BW

40

95 mm

200 mm

45 mm

167

149

2200

7920A5

25

100 mm

140 mm

20 mm

47.5

51.5

5600

7920C

15

100 mm

140 mm

20 mm

50

54

6700

7020A

30

100 mm

150 mm

24 mm

68.5

70.5

4500

7020C

15

100 mm

150 mm

24 mm

75.5

77

6300

7220AW

30

100 mm

180 mm

34 mm

144

126

3200

7220BEAT85

40

100 mm

180 mm

34 mm

143

122

3200

7220BW

40

100 mm

180 mm

34 mm

130

114

2200

7220C

15

100 mm

180 mm

34 mm

149

127

5600

7320AW

30

100 mm

215 mm

47 mm

207

193

2200

7320BEAT85

40

100 mm

215 mm

47 mm

212

187

2800

7320BW

40

100 mm

215 mm

47 mm

190

178

2000

7921A5

25

105 mm

145 mm

20 mm

48

54

5600

7921C

15

105 mm

145 mm

20 mm

51

57

6300

7021A

30

105 mm

160 mm

26 mm

80

81.5

4300

7021C

15

105 mm

160 mm

26 mm

88

89.5

6000

7221AW

30

105 mm

190 mm

36 mm

157

142

3000

7221BEAT85

40

105 mm

190 mm

36 mm

155

133

3000

7221BW

40

105 mm

190 mm

36 mm

142

129

2200

7221C

15

105 mm

190 mm

36 mm

162

143

5300

7321A

30

105 mm

225 mm

49 mm

208

193

2600

7321B

40

105 mm

225 mm

49 mm

191

177

2400

7321BEAT85

40

105 mm

225 mm

49 mm

224

203

2600

7922A5

25

110 mm

150 mm

20 mm

49

56

5300

7922C

15

110 mm

150 mm

20 mm

52

59.5

6300

7022A

30

110 mm

170 mm

28 mm

96.5

95.5

4000

7022C

15

110 mm

170 mm

28 mm

106

104

5600

7222AW

30

110 mm

200 mm

38 mm

170

158

2800

7222BEAT85

40

110 mm

200 mm

38 mm

162

144

2800

7222BW

40

110 mm

200 mm

38 mm

154

144

2000

7222C

15

110 mm

200 mm

38 mm

176

160

5000

7322A

30

110 mm

240 mm

50 mm

220

215

2600

7322B

40

110 mm

240 mm

50 mm

201

197

2200

7322BEAT85

40

110 mm

240 mm

50 mm

237

226

2600

7924A5

25

120 mm

165 mm

22 mm

67.5

77

4800

7924C

15

120 mm

165 mm

22 mm

72

81

5600

7024A

30

120 mm

180 mm

28 mm

102

107

3600

7224A

30

120 mm

215 mm

40 mm

183

177

3200

7224B

40

120 mm

215 mm

40 mm

165

162

2400

7224BEAT85

40

120 mm

215 mm

40 mm

188

177

2600

7324A

30

120 mm

260 mm

55 mm

246

252

2200

7324B

40

120 mm

260 mm

55 mm

225

231

2000

7324BEAT85

40

120 mm

260 mm

55 mm

249

250

2200

7926A5

25

130 mm

180 mm

24 mm

74

86

4300

7926C

15

130 mm

180 mm

24 mm

78.5

91

5000

7026A

30

130 mm

200 mm

33 mm

117

125

3400

7226A

30

130 mm

230 mm

40 mm

189

193

2400

7226B

40

130 mm

230 mm

40 mm

171

175

2200

7326A

30

130 mm

280 mm

58 mm

273

293

2200

7326B

40

130 mm

280 mm

58 mm

250

268

1900

7928A5

25

140 mm

190 mm

24 mm

75

90

4000

7928C

15

140 mm

190 mm

24 mm

79.5

95.5

4800

7028A

30

140 mm

210 mm

33 mm

120

133

3200

7228A

30

140 mm

250 mm

42 mm

218

234

2200

7228B

40

140 mm

250 mm

42 mm

197

213

2000

7328A

30

140 mm

300 mm

62 mm

300

335

2000

7328B

40

140 mm

300 mm

62 mm

275

310

1700

7930A5

25

150 mm

210 mm

28 mm

96.5

115

3800

7930C

15

150 mm

210 mm

28 mm

102

122

4300

7030A

30

150 mm

225 mm

35 mm

137

154

2400

7230A

30

150 mm

270 mm

45 mm

248

280

2000

7230B

40

150 mm

270 mm

45 mm

225

254

1800

7330A

30

150 mm

320 mm

65 mm

315

370

1800

7330B

40

150 mm

320 mm

65 mm

289

340

1600

7932C

15

160 mm

220 mm

28 mm

106

133

3800

7032A

30

160 mm

240 mm

38 mm

155

176

2200

7232A

30

160 mm

290 mm

48 mm

263

305

1900

7232B

40

160 mm

290 mm

48 mm

238

279

1700

7332A

30

160 mm

340 mm

68 mm

345

420

1700

7332B

40

160 mm

340 mm

68 mm

315

385

1500

7934C

15

170 mm

230 mm

28 mm

113

148

3600

7034A

30

170 mm

260 mm

42 mm

186

214

2000

7234A

30

170 mm

310 mm

52 mm

295

360

1800

7234B

40

170 mm

310 mm

52 mm

266

325

1600

7334A

30

170 mm

360 mm

72 mm

390

485

1600

7334B

40

170 mm

360 mm

72 mm

355

445

1400

7236B

40

180 mm

320 mm

52 mm

276

350

1500

7936C

15

180 mm

250 mm

33 mm

145

184

3200

7036A

30

180 mm

280 mm

46 mm

207

252

1900

7236A

30

180 mm

320 mm

52 mm

305

385

1700

7336B

40

180 mm

380 mm

75 mm

375

490

1300

7336A

30

180 mm

380 mm

75 mm

410

535

1500

7938C

15

190 mm

260 mm

33 mm

147

192

3000

7038A

30

190 mm

290 mm

46 mm

224

280

1800

7238A

30

190 mm

340 mm

55 mm

315

410

1600

7238B

40

190 mm

340 mm

55 mm

284

375

1400

7338A

30

190 mm

400 mm

78 mm

450

600

1400

7338B

40

190 mm

400 mm

78 mm

410

550

1300

7940C

15

200 mm

280 mm

38 mm

189

244

2800

7040A

30

200 mm

310 mm

51 mm

240

310

1700

7240A

30

200 mm

360 mm

58 mm

335

450

1500

7240B

40

200 mm

360 mm

58 mm

305

410

1300

7340A

30

200 mm

420 mm

80 mm

475

660

1300

7340B

40

200 mm

420 mm

80 mm

430

600

1200

* Suffix Descriptions:
| | | | |
| --- | --- | --- | --- |
| | Symbal | | Meaning |
| | A | → | Contact Angel 30° |
| | B | → | Contact Angel 40° |
| | C | → | Contact Angel 15° |
| | A5 | → | Contact Angel 25° |
| | DB | → | Back to Back Type |
| | DF | → | Face to Face Type |
| | DT | → | Tandem Type |
| | HPS | → | Polymide Cage |