NKI
/
NA
/
NAO

Needle roller bearings with machined rings,
WITH
inner ring,
Heavy
duty, METRIC sizes

CLI machined type Heavy Duty Needle Roller Bearings are bearings with a low sectional height and large load ratings. The outer ring has high rigidity and can easily be used even for light alloy housings.

These bearings are available in metric series and inch series, both of which have the caged type and the full complement type. It is therefore possible to select a suitable bearing for use under various conditions such as heavy loads and high-speed or low-speed rotations.

In addition, there are bearings with and without an inner ring. As the type without inner ring uses a shaft as the raceway surface, a compact design is possible.

Plese select the bearings in the following tables. Click " CLI BEARING NO. " or " DETAILS " to check the specifications...
BEARING LIST & BEARING DETAILS
NKI
/
NA
/
NAO

Needle roller bearings with machined rings
for
shaft sizes from
5 mm to 380 mm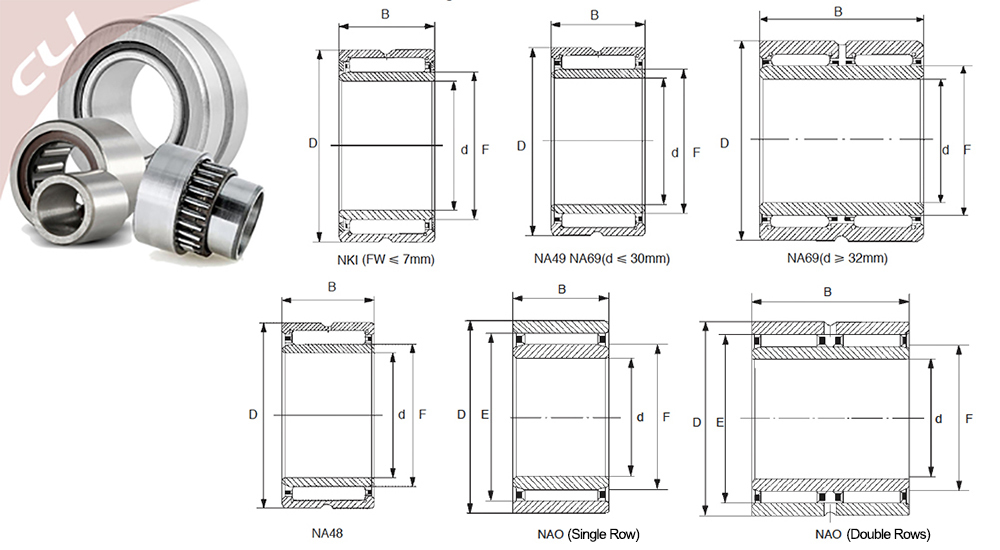 CLI Bearing No.

Seal Type

Bore Dia(d)

Outer Dia(D)

Width

Dynamic Load

Static Load

Max Speed

(B)

Rating (Cr)

Rating (Cor)

(Grease)

 

(Newtons)

(Newtons)

(RPM)

NKI5/12-TV-XL

Open

5mm

15mm

12mm

4450

4100

32500

NKI5/16-TV-XL

Open

5mm

15mm

16mm

5800

5800

32500

NKI6/12-TV-XL

Open

6mm

16mm

12mm

5100

5000

31000

NKI6/16-TV-XL

Open

6mm

16mm

16mm

6600

7100

31000

NAO6X17X10-TV-IS1-XL

Open

6mm

17mm

10mm

5300

5500

29500

NKI7/12-TV-XL

Open

7mm

17mm

12mm

5300

5500

29500

NKI7/16-TV-XL

Open

7mm

17mm

16mm

7000

7800

29500

NKI9/12-XL

Open

9mm

19mm

12mm

7200

7100

26500

NKI9/16-XL

Open

9mm

19mm

16mm

10100

11000

26500

NAO9X22X12-TV-XL

Open

9mm

22mm

12mm

11300

9900

26000

NKI10/16-XL

Open

10mm

22mm

16mm

11400

11500

24600

NKI10/20-XL

Open

10mm

22mm

20mm

14500

15600

24600

NA4900-XL

Open

10mm

22mm

13mm

9600

9200

24600

NA4900-RSR-XL

Single seal

10mm

22mm

14mm

7700

6900

14800

NA4900-2RSR-XL

Double seals

10mm

22mm

14mm

7700

6900

14800

NKI12/16-XL

Open

12mm

24mm

16mm

12800

13900

23200

NKI12/20-XL

Open

12mm

24mm

20mm

16300

18800

23200

NA4901-XL

Open

12mm

24mm

13mm

10600

10900

23200

NA6901-XL

Open

12mm

24mm

22mm

18100

21600

23200

NA4901-RSR-XL

Single seal

12mm

24mm

14mm

8600

8300

13900

NA4901-2RSR-XL

Double seals

12mm

24mm

14mm

8600

8300

13900

NAO12X24X13-XL

Open

12mm

24mm

13mm

10100

11800

23600

NAO12X28X12-IS1-XL

Open

12mm

28mm

12mm

13000

12500

22900

NKI15/16-XL

Open

15mm

27mm

16mm

14700

17400

21600

NKI15/20-XL

Open

15mm

27mm

20mm

18700

23600

21600

NKIS15-XL

Open

15mm

35mm

20mm

27500

28000

18500

NA4902-XL

Open

15mm

28mm

13mm

12000

13600

21100

NA6902-XL

Open

15mm

28mm

23mm

19500

25500

21100

NA4902-RSR-XL

Single seal

15mm

28mm

14mm

9700

10300

12600

NA4902-2RSR-XL

Double seals

15mm

28mm

14mm

9700

10300

12600

NAO15X28X13-XL

Open

15mm

28mm

13mm

11100

14300

21300

NAO15X32X12-IS1-XL

Open

15mm

32mm

12mm

15100

16200

20900

NKI17/16-XL

Open

17mm

29mm

16mm

15200

18700

20600

NKI17/20-XL

Open

17mm

29mm

20mm

19300

25500

20600

NKIS17-XL

Open

17mm

37mm

20mm

29500

31000

17200

NA4903-XL

Open

17mm

30mm

13mm

12400

14600

20000

NA6903-XL

Open

17mm

30mm

23mm

21100

29000

20000

NA4903-RSR-XL

Single seal

17mm

30mm

14mm

10000

11000

12000

NA4903-2RSR-XL

Double seals

17mm

30mm

14mm

10000

11000

12000

NAO17X30X13-XL

Open

17mm

30mm

13mm

11800

15900

20400

NAO17X35X16-XL

Open

17mm

35mm

16mm

22600

25500

19200

NKI20/16-XL

Open

20mm

32mm

16mm

16900

22300

18500

NKI20/20-XL

Open

20mm

32mm

20mm

21400

30500

18500

NKIS20-XL

Open

20mm

42mm

20mm

32500

36500

15100

NA4904-XL

Open

20mm

37mm

17mm

23700

25500

16900

NA6904-XL

Open

20mm

37mm

30mm

40500

51000

16900

NA4904-RSR-XL

Single seal

20mm

37mm

18mm

19500

19900

10100

NA4904-2RSR-XL

Double seals

20mm

37mm

18mm

19500

19900

10100

NAO20X35X17-XL

Open

20mm

35mm

17mm

16800

26000

18100

NAO20X37X16-XL

Open

20mm

37mm

16mm

23500

27500

17200

NKI22/16-XL

Open

22mm

34mm

16mm

17300

23600

17200

NKI22/20-XL

Open

22mm

34mm

20mm

22000

32000

17200

NA49/22-XL

Open

22mm

39mm

17mm

26000

29500

15300

NA69/22-XL

Open

22mm

39mm

30mm

42000

55000

15300

NKI25/20-TV-XL

Open

25mm

38mm

20mm

27500

39000

15300

NKI25/30-XL

Open

25mm

38mm

30mm

37000

57000

15300

NKIS25-XL

Open

25mm

47mm

22mm

38000

43500

13200

NA4905-XL

Open

25mm

42mm

17mm

26500

31500

14400

NA6905-XL

Open

25mm

42mm

30mm

44000

59000

14400

NA4905-RSR-XL

Single seal

25mm

42mm

18mm

21800

24200

8600

NA4905-2RSR-XL

Double seals

25mm

42mm

18mm

21800

24200

8600

NAO25X40X17-XL

Open

25mm

40mm

17mm

22100

34000

15100

NAO25X42X16-IS1-XL

Open

25mm

42mm

16mm

26000

33500

14600

NAO25X42X32-ZW-ASR1-XL

Open

25mm

42mm

32mm

45000

67000

14600

NKI28/20-TV-XL

Open

28mm

42mm

20mm

29500

44500

14000

NKI28/30-XL

Open

28mm

42mm

30mm

39000

63000

14000

NA49/28-XL

Open

28mm

45mm

17mm

27500

33500

13600

NA69/28-XL

Open

28mm

45mm

30mm

45500

63000

13600

NKI30/20-TV-XL

Open

30mm

45mm

20mm

31000

48500

12900

NKI30/30-TV-XL

Open

30mm

45mm

30mm

46000

81000

12900

NKIS30-XL

Open

30mm

52mm

22mm

41500

50000

11700

NA4906-XL

Open

30mm

47mm

17mm

28500

35500

12600

NA6906-XL

Open

30mm

47mm

30mm

49000

71000

12600

NA4906-RSR-XL

Single seal

30mm

47mm

18mm

23900

28500

7500

NA4906-2RSR-XL

Double seals

30mm

47mm

18mm

23900

28500

7500

NAO30X45X17-XL

Open

30mm

45mm

17mm

23500

38500

13100

NAO30X47X16-XL

Open

30mm

47mm

16mm

27500

37500

12700

NAO30X47X18-XL

Open

30mm

47mm

18mm

31000

43000

12700

NAO30X45X26-ZW-ASR1-XL

Open

30mm

45mm

26mm

31500

56000

13100

NKI32/20-XL

Open

32mm

47mm

20mm

28000

43500

12300

NKI32/30-XL

Open

32mm

47mm

30mm

42000

73000

12300

NA49/32-XL

Open

32mm

52mm

20mm

34500

47500

11100

NA69/32-ZW-XL

Open

32mm

52mm

36mm

53000

82000

11100

NKI35/20-TV-XL

Open

35mm

50mm

20mm

33500

56000

11400

NKI35/30-XL

Open

35mm

50mm

30mm

44000

79000

11400

NKI35/20-TW-XL

Open

35mm

50mm

20mm

33500

56000

11400

NKIS35-XL

Open

35mm

58mm

22mm

44000

57000

10200

NA4907-XL

Open

35mm

55mm

20mm

35500

50000

10700

NA6907-ZW-XL

Open

35mm

55mm

36mm

54000

86000

10700

NA4907-RSR-XL

Single seal

35mm

55mm

21mm

29500

39500

6400

NA4907-2RSR-XL

Double seals

35mm

55mm

21mm

29500

39500

6400

NAO35X50X17-XL

Open

35mm

50mm

17mm

24200

41500

11500

NAO35X55X20-XL

Open

35mm

55mm

20mm

37000

57000

11300

NKI38/20-XL

Open

38mm

53mm

20mm

30500

51000

10700

NKI38/30-XL

Open

38mm

53mm

30mm

45500

85000

10700

NKI40/20-TV-XL

Open

40mm

55mm

20mm

35000

62000

10200

NKI40/30-TV-XL

Open

40mm

55mm

30mm

52000

103000

10200

NKI40/30-TW-XL

Open

40mm

55mm

30mm

52000

103000

10200

NKIS40-XL

Open

40mm

65mm

22mm

48000

67000

8900

NA4908-XL

Open

40mm

62mm

22mm

48500

67000

9200

NA6908-ZW-XL

Open

40mm

62mm

40mm

74000

116000

9200

NA4908-RSR-XL

Single seal

40mm

62mm

23mm

41000

53000

5500

NA4908-2RSR-XL

Double seals

40mm

62mm

23mm

41000

53000

5500

NAO40X55X17-XL

Open

40mm

55mm

17mm

25500

46000

10300

NKI42/20-XL

Open

42mm

57mm

20mm

32500

56000

9800

NKI42/30-XL

Open

42mm

57mm

30mm

48500

94000

9800

NKI45/25-TV-XL

Open

45mm

62mm

25mm

48500

87000

9200

NKI45/35-TV-XL

Open

45mm

62mm

35mm

67000

132000

9200

NKIS45-XL

Open

45mm

72mm

22mm

51000

74000

8200

NA4909-XL

Open

45mm

68mm

22mm

51000

73000

8600

NA6909-ZW-XL

Open

45mm

68mm

40mm

79000

127000

8600

NA4909-RSR-XL

Single seal

45mm

68mm

23mm

43000

59000

5200

NA4909-2RSR-XL

Double seals

45mm

68mm

23mm

43000

59000

5200

NKI50/25-XL

Open

50mm

68mm

25mm

45500

82000

8400

NKI50/35-XL

Open

50mm

68mm

35mm

60000

118000

8400

NKIS50-XL

Open

50mm

80mm

28mm

71000

98000

7400

NA4910-XL

Open

50mm

72mm

22mm

53000

80000

7800

NA6910-ZW-XL

Open

50mm

72mm

40mm

82000

139000

7800

NA4910-RSR-XL

Single seal

50mm

72mm

23mm

45000

64000

4650

NA4910-2RSR-XL

Double seals

50mm

72mm

23mm

45000

64000

4650

NAO50X68X20-IS1-XL

Open

50mm

68mm

20mm

32000

66000

8500

NKI55/25-TV-XL

Open

55mm

72mm

25mm

53000

103000

7700

NKI55/35-XL

Open

55mm

72mm

35mm

63000

130000

7700

NKI55/25-TW-XL

Open

55mm

72mm

25mm

53000

103000

7700

NKIS55-XL

Open

55mm

85mm

28mm

75000

108000

6900

NA4911-XL

Open

55mm

80mm

25mm

65000

100000

7200

NA6911-ZW-XL

Open

55mm

80mm

45mm

102000

176000

7200

NKI60/25-XL

Open

60mm

82mm

25mm

49500

89000

6800

NKI60/35-XL

Open

60mm

82mm

35mm

70000

139000

6800

NKIS60-XL

Open

60mm

90mm

28mm

77000

113000

6400

NA4912-XL

Open

60mm

85mm

25mm

68000

108000

6700

NA6912-ZW-XL

Open

60mm

85mm

45mm

106000

191000

6700

NKI65/25-XL

Open

65mm

90mm

25mm

60000

100000

6300

NKI65/35-XL

Open

65mm

90mm

35mm

85000

156000

6300

NKIS65-XL

Open

65mm

95mm

28mm

81000

123000

6000

NA4913-XL

Open

65mm

90mm

25mm

69000

112000

6300

NA6913-ZW-XL

Open

65mm

90mm

45mm

108000

198000

6300

NKI70/25-XL

Open

70mm

95mm

25mm

63000

119000

5800

NKI70/35-XL

Open

70mm

95mm

35mm

89000

184000

5800

NA4914-XL

Open

70mm

100mm

30mm

95000

156000

5700

NA6914-ZW-XL

Open

70mm

100mm

54mm

145000

265000

5700

NAO70X100X30-XL

Open

70mm

100mm

30mm

80000

176000

5800

NKI75/25-XL

Open

75mm

105mm

25mm

78000

123000

5400

NKI75/35-XL

Open

75mm

105mm

35mm

111000

193000

5400

NA4915-XL

Open

75mm

105mm

30mm

97000

162000

5400

NA6915-ZW-XL

Open

75mm

105mm

54mm

147000

275000

5400

NKI80/25-XL

Open

80mm

110mm

25mm

81000

132000

5100

NKI80/35-XL

Open

80mm

110mm

35mm

116000

208000

5100

NA4916-XL

Open

80mm

110mm

30mm

101000

174000

5100

NA6916-ZW-XL

Open

80mm

110mm

54mm

153000

300000

5100

NAO80X110X30-XL

Open

80mm

110mm

30mm

76000

172000

5200

NKI85/26-XL

Open

85mm

115mm

26mm

83000

137000

4850

NKI85/36-XL

Open

85mm

115mm

36mm

121000

223000

4850

NA4917-XL

Open

85mm

120mm

35mm

125000

237000

4600

NA6917-ZW-XL

Open

85mm

120mm

63mm

188000

400000

4600

NKI90/26-XL

Open

90mm

120mm

26mm

86000

146000

4600

NKI90/36-XL

Open

90mm

120mm

36mm

125000

237000

4600

NA4918-XL

Open

90mm

125mm

35mm

129000

250000

4400

NA6918-ZW-XL

Open

90mm

125mm

63mm

195000

425000

4400

NAO90X120X30-XL

Open

90mm

120mm

30mm

80000

188000

4700

NKI95/26-XL

Open

95mm

125mm

26mm

89000

155000

4400

NKI95/36-XL

Open

95mm

125mm

36mm

129000

250000

4400

NA4919-XL

Open

95mm

130mm

35mm

131000

260000

4200

NA6919-ZW-XL

Open

95mm

130mm

63mm

197000

440000

4200

NKI100/30-XL

Open

100mm

130mm

30mm

111000

210000

4200

NKI100/40-XL

Open

100mm

130mm

40mm

143000

290000

4200

NA4920-XL

Open

100mm

140mm

40mm

144000

270000

4000

NA4922-XL

Open

110mm

150mm

40mm

149000

290000

3700

NA4822-XL

Open

110mm

140mm

30mm

106000

216000

3900

NA4924-XL

Open

120mm

165mm

45mm

205000

390000

3400

NA4824-XL

Open

120mm

150mm

30mm

112000

239000

3600

NA4926-XL

Open

130mm

180mm

50mm

229000

470000

3100

NA4826-XL

Open

130mm

165mm

35mm

134000

310000

3250

NA4928-XL

Open

140mm

190mm

50mm

237000

500000

2900

NA4828-XL

Open

140mm

175mm

35mm

136000

325000

3050

NA4830-XL

Open

150mm

190mm

40mm

172000

400000

2850

NA4832-XL

Open

160mm

200mm

40mm

181000

435000

2700

NA4834-XL

Open

170mm

215mm

45mm

209000

510000

2550

NA4836-XL

Open

180mm

225mm

45mm

219000

550000

2420

NA4838-XL

Open

190mm

240mm

50mm

255000

690000

2250

NA4840-XL

Open

200mm

250mm

50mm

260000

720000

2150

NA4844-XL

Open

220mm

270mm

50mm

275000

790000

1980

NA4848-XL

Open

240mm

300mm

60mm

400000

1080000

1780

NA4852-XL

Open

260mm

320mm

60mm

415000

1160000

1660

NA4856-XL

Open

280mm

350mm

69mm

510000

1300000

1540

NA4860-XL

Open

300mm

380mm

80mm

700000

1770000

1420

NA4864-XL

Open

320mm

400mm

80mm

710000

1850000

1340

NA4868-XL

Open

340mm

420mm

80mm

730000

1940000

1270

NA4872-XL

Open

360mm

440mm

80mm

740000

2020000

1210

NA4876-XL

Open

380mm

480mm

100mm

1130000

2900000

1130